RestaurantLE MEURIN
Let yourself be guided by your emotions...
Le Meurin, Michelin two-starred gourmet restaurant, is located within the walls of the Château de Beaulieu, a 4-star Relais & Châteaux hotel.
The restaurant is headed by the famous and experienced chef Marc Meurin.The restaurant's menu showcases the local flavors of the Nord-Pas-de-Calais region and focuses on fresh, high-quality produce grown by the most passionate producers.
Specialties:
Plats

Flanders pigeonneau, with crispy legs,
giblet gravy and coriander

Desserts

Parfum de rose
A delightful raspberry-litchi combination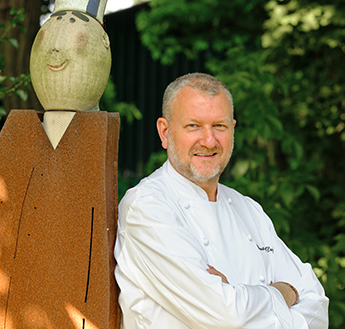 The ChefMarc Meurin
---
Marc Meurin was born in 1953 in Lens. He obtained his CAP certificate (vocational training qualification in France) in cooking at the age of 17 at a hotel school in Lille. While many of his fellow chefs kickstarted their career under the wing of top chefs, Marc Meurin began his journey as a self-taught chef. In 1992, he earned his first Michelin star for the restaurant he had back then, Le Meurin, located in Béthune. Six years later, in 1998, he was already awarded a second Michelin star, proving that the Lens native had made the right career choice.

REVIEW FROM THE MICHELIN GUIDE:
A moment of high gastronomy in the chic and intimate setting of the Château de Beaulieu. Marc Meurin's cuisine is finely crafted, refined and inventive. In their marriages of flavours every dish is a pleasure.

(Additional comments: Very pleasant restaurant - Wonderful wine menu).

Inspectors of the Michelin Guide
Opening days
For lunch: Friday and Sunday lunch.
For dinner from Tuesday to Saturday evening.

Lunch : 12:00 to 13:30
Having dinner : 7 pm to 9.30 pm