RestaurantLE JARDIN D'ALICE
Let yourself be charmed by a modern brasserie
Le Jardin d'Alice is a modern brasserie with a contemporary and stylish design. Its colorful setting gives it a warm and elegant atmosphere. Chef Marc Meurin welcomes you to discover a cuisine that takes its roots in local produce but still manages to be both inventive and creative.
Spécialités de la Maison
Plats

Parmentier d'huîtres « Gillardeau »
Le paleron « Black Angus » beurre Maître d'hôtel / Confit d'échalotes / millefeuille de pommes Laurette
Les noix de Saint Jacques caramélisées / risotto crémeux de légumes
Les beignets de Maroilles/ salade de chicons/ noix /abricots secs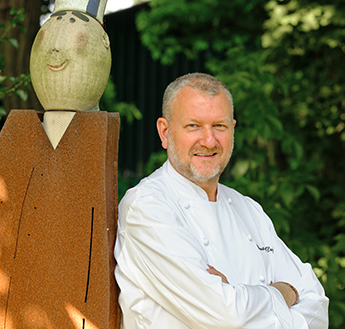 The ChefMarc Meurin
---
In the exceptional setting of the Château de Beaulieu and the kitchens of the gourmet restaurant Le Meurin, come and discover the cooking studios animated by chef Marc Meurin and his executive chefs. You will discover recipes of seasons as well as all Chefs' tricks that will make your meals unforgettable moments. These workshops will allow you to discover the basics of traditional cooking: you will discover the indispensable equipment, the professional gestures for the preparation of the products, their characteristics, their seasonality, cooking methods, and current recipes ...

REVIEW FROM THE MICHELIN GUIDER:
"Chef Marc Meurin's second restaurant is a colourful, off-the-wall bistro within the Château de Beaulieu. No doubt about it, with its trendy decor and pretty garden - not to mention the lovely traditional food - the place would have been right up Alice in Wonderland's street. It is often full, so make sure you book."

"Bib Gourmand" rating: Rating given by Michelin Guide inspectors to restaurants that offer exceptional good food at moderate prices..
Meals (excluding drinks) under €32 (€36 in Paris).
Great quality. Our best recommendations.

Les inspecteurs du guide Michelin
Jours d'ouverture
Tous les jours de la semaine, du lundi au dimanche.

Le midi : 12h00 à 14h00
Le soir : 19h00 à 21h00